Stepping Stones at Rothwell opened in 2009 and serves the local area and beyond, with excellent transport links making it easily accessible from Leeds city centre. The nursery was awarded Good by Ofsted in 2017.
We cater for children from six weeks to five years in a warm, homely environment where our dedicated team can help your child progress and develop. Our large outdoor space is sectioned into appropriate age ranges, with everything from sand pits to mud kitchens and vegetable patches to construction sites. It's open in all weathers, with waterproof clothing available and a canopy for sunny days.
We always have a good mix of ages and divide our spaces into different age groups. Your child also has a key person to provide comfort and reassurance, who'll tell you about everything they've done during their fun-filled day.
Address
135 Wood Lane, Rothwell, Leeds, West Yorkshire, LS26 0PH
Ofsted Registration Number
EY403285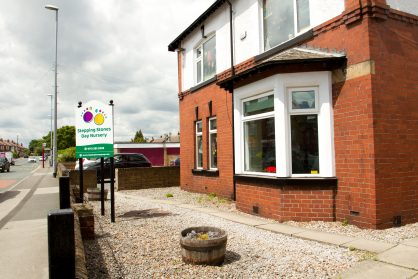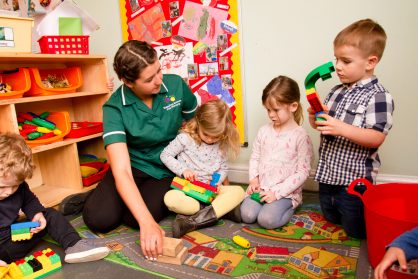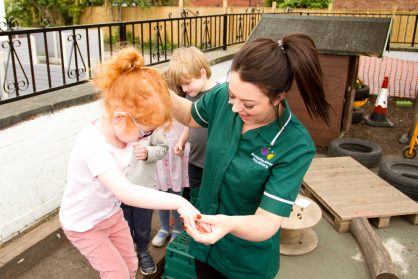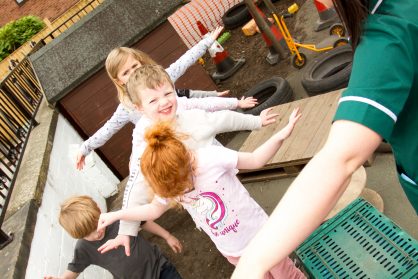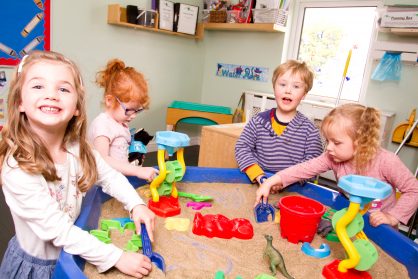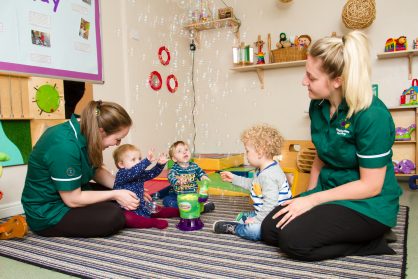 Our Facilities
Baby Room
To get you and your child's nursery journey off to the best possible start, we follow your child's individual routine to make the transition into nursery as easy as possible. We use daily diaries to communicate between home and nursery, and keep you fully informed about your child's day. We take great pride in guiding you through your child's progression from day one and throughout their very first life experiences.
Toddlers
To develop your child's independence, we support the transition from babbling to early language, helping them build relationships and become a unique individual. Our toddler room is a bright, stimulating environment that encourages children to explore and develop through new, challenging experiences based on their own interests.
Preschool
This is where we prepare your child for the transition into school, which we aim to make as smooth as possible through the excellent school links we have established in the area. Here we provide extensive learning opportunities tailored to your child's stage of development to encourage further independence and support their decision-making skills. A key focus in Preschool is developing your child's social and emotional skills enabling them to flourish as they take their next step into school.
Outdoors
Stepping Stones Rothwell has a vast area for outdoor play which is sectioned into the appropriate age ranges. All areas support the children's learning and development, using specific resources in line with the guidance from the Early Years Foundation Stage (EYFS). The outdoor facilities are easily accessible by all rooms and waterproof clothing is available to access outdoor facilities in all weather conditions. Also, for the rare hot sunny days, we have a canopy providing essential shade for the children. From sand pits to mud kitchens, vegetable patches to constructions sites, the opportunities for fun & learning are endless at Stepping Stones Rothwell.
Meal Time
We value meal times as a significant part of your child's day at nursery and view meal time as another learning opportunity for the children. With a top hygiene rating of 5 from Environmental Health, menus are produced with parent's input and the children's likes taken into consideration. Allergies are catered for and children are provided with an alternative option to meet their dietary requirements. Working closely with parents during the weaning process, the nursery provides blended fruits and vegetables and other finger foods.
Safety Features
Safety is of utmost importance at Stepping Stones. All parents, children and visitors access the building via one main door which is operated by the Nursery Manager. Only authorised persons can collect children and any changes to the usual procedure must be communicated to staff, in line with our policy.
What parents say

We feel there is a great partnership between parents and staff.
What parents say

We love how much she has been nurtured and developed since she started at the nursery.